Currently I am just enjoying painting, and not worried about selling them, as long as I can afford paint, canvas and space. Being so prolific, space is an issue so I plan on selling them very affordable. I'll let the secondary market figure out the value. The true value will be determined after I'm gone. David Katz who owned my best three galleries in New York, Palm Desert and Park City told me to paint paintings I would buy. At that time a few of my paintings in New York were $18,000 after getting in a gallery in Berlin. I couldn't afford to buy my own work. Two years ago, I started to just play with acrylic colors on 48"x48" panels. To push the colors further I put on a layer of clear Gesso and shifted to oil paints on top. I realized that I was wasting paint. An Artist friend, Tom Gilleon helped me figure out how to use Photoshop to try different colors. I would play in paint, photograph, play with it in Photoshop, paint the updates, repeat. Now I am moving from series to series without Photoshop. This with I plan on painting scenes from my walks. I have lived a charmed life as an early adopter. At the beginning of the internet, a Yahoo search for art brought up the Louvre, me and 38 others. At the beginning of Ebay when there were only 300-600 listings for paintings, I sold all of my surreal period works. Enjoyed being in and selling hundreds of paintings in 27 galleries including in SOHO for 6 years and treated extremely well by all of them.
Click here to see the "Modernity" series.

---
---
Click these pictures to see more pages
I truly appreciate all of my collectors! If you own one of these listed as "Private collection" you probably bought the painting at a gallery and I don't have your name. Please contact me if you want to be named and I can update my provenance records.
THANK YOU!

Click here to see some of the Representational works that have already found homes.

Click here to see some of the abstract works that have already found homes.

Home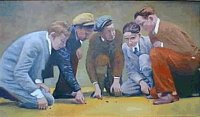 Early Works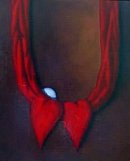 Surreal Period 1979-1995

141998